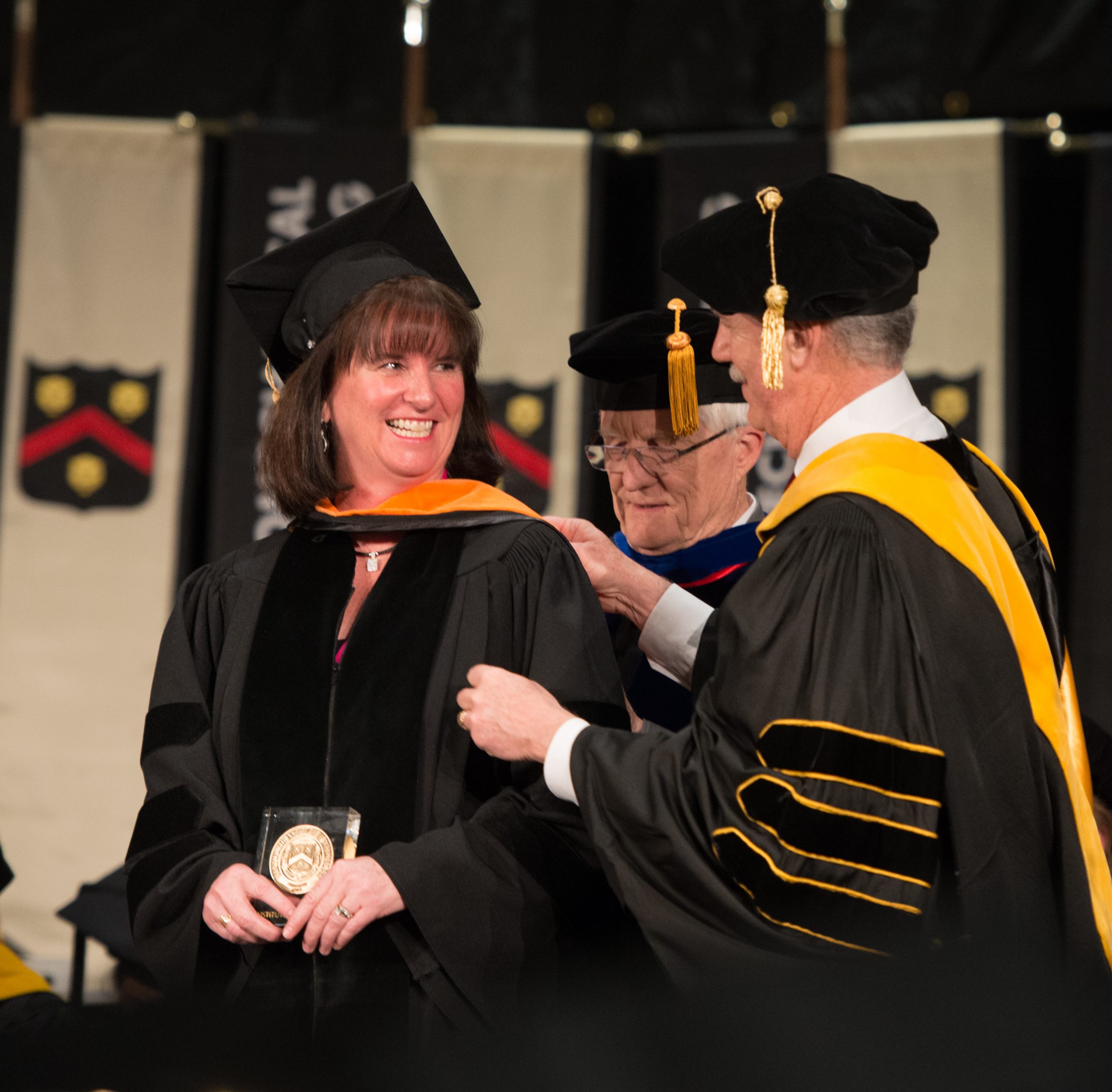 Wentworth Institute of Technology 2016
The entire Keville team would like to congratulate our Founder and CEO on being honored by Wentworth Institute of Technology. Christine was asked to present their Spring 2016 commencement speech and was presented with an honorary doctorate for her excellence and dedication in promoting the Construction Management field, its associated areas of academic study, and for promoting women in this ever changing and dynamic industry.
Christine Keville, FCMAA, is President and Chief Executive Officer of Keville Enterprises, Inc. (Keville). As the founder and incorporator of Keville, she is accountable for the overall coordination, direction and supervision of this Construction Management firm spanning nine offices across the country.
Ms. Keville earned her Master's degree in Construction Management from Northeastern University, her Bachelor's degree in Mathematics from North Adams State, and is a Massachusetts licensed Construction Supervisor.
Ms. Keville was inducted into the National Academy of Construction (NAC), the Construction Management Association of America (CMAA) College of Fellows, and the Moles. She is a Trustee and Corporator at Wentworth Institute of Technology, and she most recently received an Honorary Doctorate Degree in Engineering from Wentworth Institute after delivering their commencement address. Christine is Chairman of the Civil & Environmental Engineering Industrial Advisory Board at Northeastern University. She is on the Board of Directors of A Better City (ABC), Chairman of the Foundation Board for the International Bridge Tunnel and Turnpike Association (IBTTA) and is a member of the Moles Executive Committee. She is past National Chairman of CMAA and the CMAA Foundation, and was Chancellor of the CMAA College of Fellows. Ms. Keville has served on the Board of Directors for the Construction Industries of Massachusetts (CIM), Women's Transportation Seminar (WTS) -Boston, and the Jordan Hospital.
Ms. Keville received Wentworth Institute's Woman of the Year award, Virginia Tech's Outstanding Woman in Construction award, Northeastern University's Outstanding Engineering Alumni award, South Shore Women's Business Network's Women Mean Business award, WTS Boston's Woman of the Year award, Patriots Trail Girl Scouts' Leading Women award, CMAA New England Chapter's Distinguished Service Award, and CMAA National's Special Service Award.