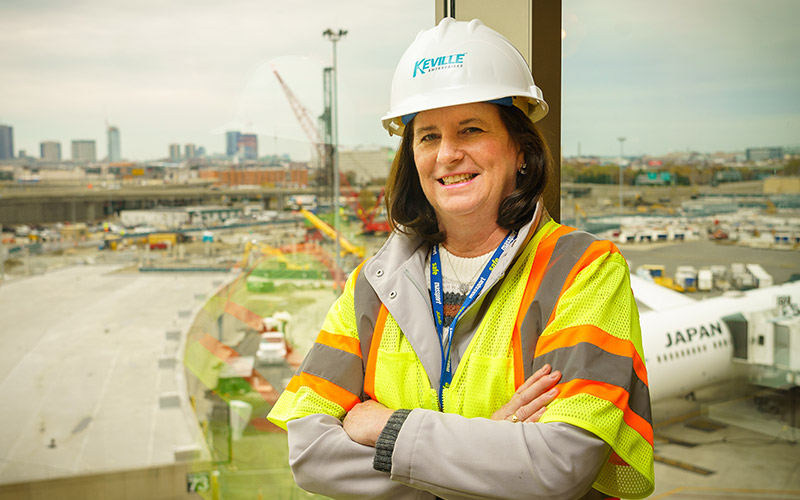 Christine Keville, FCMAA, MOLES, NAC, Hon.D.Eng
President & CEO, Keville Enterprises, Inc.
Keville's President & CEO, Ms. Christine Keville, received ENR New England's 2019 Legacy Award.
Ms. Keville's resume outlines the breadth and depth of her career accomplishments and her exemplary service and commitment to the AEC industry. She is the founder and incorporator of Keville Enterprises, a 150-person construction management firm that is known for its expertise and quality of service in construction management. With a degree in construction management and with a MA licensed construction supervisor, Ms. Keville now oversees the coordination and supervision of Keville Enterprises in its nine offices nationwide.
In addition to this executive position, Ms. Keville has served in several related positions in support of the construction industry. These activities include her role as the Chairman of the Civil & Environmental Engineering Industrial Advisory Board at Northeastern University, as a board member of A Better City, and as First Vice President of the Moles Executive Committee, an historic group engaged in heavy construction projects. She is also on the Foundation Board for the International Bridge Tunnel and Turnpike Association and has served as its Chair (IBTTA).
As a leader in the construction industry, Ms. Keville has invested in the development of women in the field and is an exemplary role model for all construction related professionals. For this, she has been recognized with the Wentworth Institute's award for Woman of the Year, Virginia Tech's Outstanding Woman in Construction award, WTS Boston's Woman of the Year award and numerous other such recognitions – the list goes on.
Christine's lifetime accomplishments and service to the AEC industry is truly remarkable and her name is synonymous with quality and commitment. As the Past President of CMAA New England, I submit the Board of Directors' unanimous endorsement for Christine Keville to receive the 2018 ENR Legacy Award of New England.
Respectfully,
Kay Barned-Smith, AIA CCM Past President, CMAA-NE